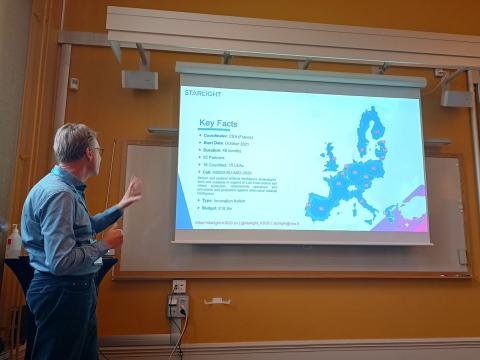 The biggest European Forensic Science Event – the 9th European Academy of Forensic Science (EAFS) Conference was held in Stockholm, from 30th May to the 3rd of June 2022. 

STARLIGHT attended the EAFS conference as an exhibitor, in a joint booth of the EU research cluster of artificial intelligence (AI) for Civil Security. 
We hosted a joint workshop with our sister project popAI looking at the intersection of data, digital forensics, and AI and focused on the challenges of creating, sharing, and managing AI datasets for forensic applications. 

popAI Coordinator Dr Dimitris Kyriazanos presented the human factors and the ethical, legal, and societal aspects (ELSA) of use of AI and relevant data for Law Enforcement, focusing on the tensions and controversies investigation/forensic effectiveness, while Freek Bomhof from TNO led the presentation for STARLIGHT.

Organised by the National Forensic Centre (NFC) of the Swedish Police Authority, under patronage of the European Network of Forensic Science Institutes (ENFSI), this event brought together over 1000 European and international practitioners, researchers, managers, and stakeholders of the forensic science community alongside EU agencies, academia, industrial partners, and international organisations.